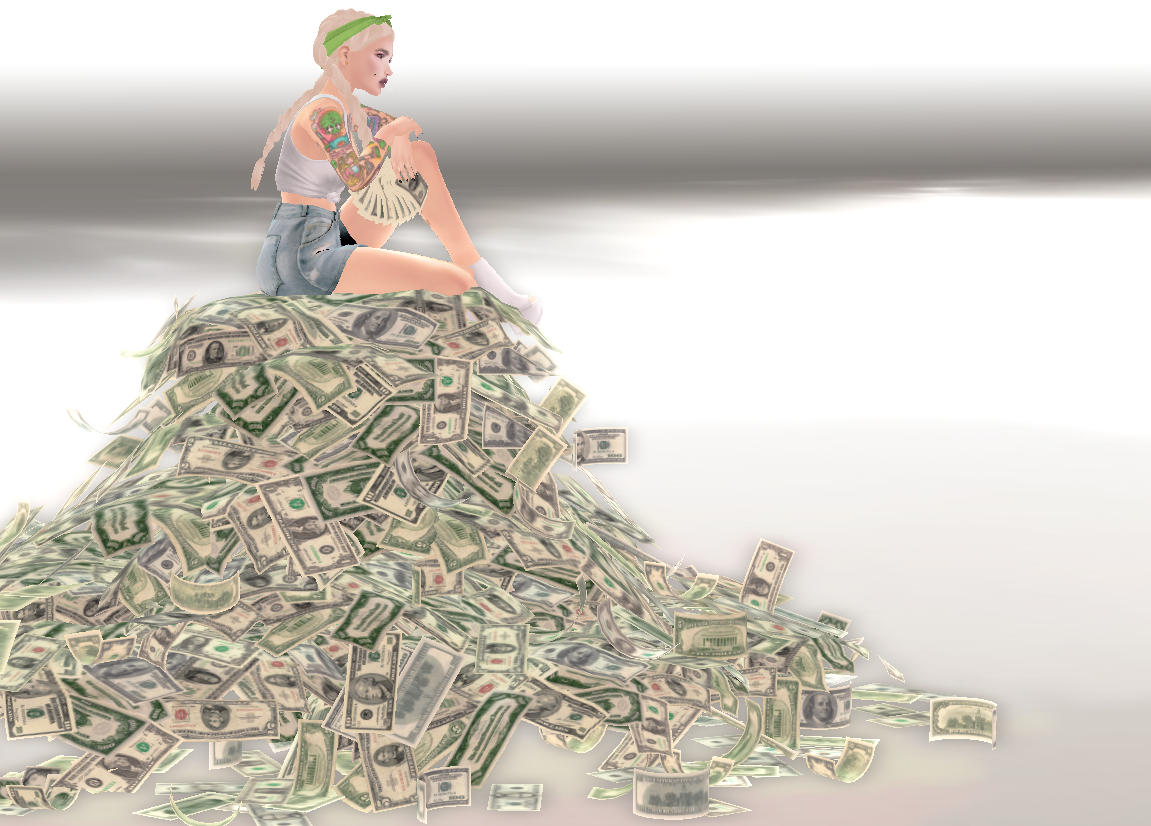 These days there is plenty to buy in Second Life as creators continue to extend their talents, providing an incredible array of options to decorate our space and dress our avatar. However, its understandable that at times it can be a bit difficult to support this hobby, and we may not be able to become as immersed as we want.
The beauty of Second Life is that it is based on its very own economy, which means there are plenty of ways to make money on Second Life so that you never have to upload a single dollar again. Don't be fooled! Just like real life, earning Lindens takes some hard work and investment. But if you're dedicated, you can build an empire.
Become a CSR
If you have time to spare and are looking for a job, many creators in Second Life rely on Customer Service Representatives to help run their brand. If you think you'd enjoy fielding questions and helping people navigate a store or how to buy an object, CSR may be a good position. These jobs often require set working hours, but allow you to go about your SL and simply take requests through IM. Some may require that you be in store to greet people as they come by.
Blog
Bloggers make money through Sponsors. The most popular kind of blogging is fashion blogging, or taking a picture of what you're wearing and sharing with your audience. The same can be done with decorating. Creators of the items you feature may sponsor your blog in the form of free items or Lindens for promoting their items. The more popular your blog is, the better chance it has to get sponsored – so don't be discouraged if it takes a while for your first sponsorship to roll along. This can take a while! Blogs are free to start through WordPress.com, Blogger.com, or Tumblr.com.
Use your Talents
Can you sing? Play an instrument? Maybe you are an excellent painter, or perhaps you love to dance. All of these talents can be expressed through Second Life, and turn into Lindens! For example, you can host your own shows to sing or play music through voice. You can play for tips! As a painter or illustrator, you can upload pictures or copies to sell as well. (Be mindful of Linden Lab's policy on what you upload.) And if you love to dance, you can choreograph a set of animations for your avatar and record them to play along with music – a real recital in second life! Acting can be done in just the same way. These are just a few examples, the possibilities are truly unlimited and you can make money from all of them!
Open a store!
If you have a talent for texturing or 3D modeling, this is the best way to make money. Fortunately, if you're not a master at 3D modeling software, many creators make full permission mesh templates for those who want to make a store. You only have to create a unique texture for your object and can sell it under your own brand! Unique mesh is the best way to go, but for those just getting started, there are plenty of options. And mesh isn't the only thing you can sell. Skins, scripts, and even nail polish are some examples of non mesh things to create a store around.
Resell Gachas
If gachas are your addiction, there's hope for you yet. The objective is to get into popular Gacha events such as The Arcade and Epiphany when the event first opens (within the first 48 hours is best). If you have a feel for which objects will be most popular, pull for them and start collecting your inventory. You can rent a booth at popular gacha malls to set out your items at a higher rate, or you can put them on the Second Life Marketplace. If you set them out early, you'll be able to make more Lindens because demand will be high. After a while your items will be harder to sell, but you can still make a profit with each event! All it takes is a little investment and time.
Photography
Everyone needs a good profile picture, and not everyone knows how to make them! If this is something you are good at, you can commission your work for Lindens. Start by creating a portfolio of your photographs from Second Life on flickr.com. Then you'll have something to show the people who you're advertising to. You can either use windlights to manipulate photography within second life, or export your photo and paint on top of it for a more advanced look. Both are in high demand and can bring in good money!
Create an Experience
If you've had an idea for a theme park, haunted house, game, club, or interactive story, its likely that this will be a popular attraction for others. This of course takes a lot of planning, investment, and tools to create. It is something that many users have worked for years to achieve! But people like Bryn Oh and Madpea Games have been successful at creating widely popular attractions that bring in lots of money through admission and donations. If its your dream to be a storyteller or an attraction owner, Second Life may offer the outlet you've been waiting for.
DJ or Host
Clubs are popular hangout spots in Second Life – perhaps the most popular! Clubs need good music for people to enjoy the atmosphere, and hosts to engage the group and keep conversation flowing! DJs require a bit more technical skill and a good knowledge of music that people enjoy to be successful. If you think you'd be good at streaming music, there are plenty of opportunities. And always openings for hosts! Inquire at your favorite club about positions they might have, and look around at lesser known clubs to build up your resume.
Rent your Land
While a big initial investment, buying and renting land has been a popular way of making money in Second Life from the very beginning. If you acquire a sim from Zoha, the best way to do this is to create a beautiful Sim that people want to live in. This can be a neighborhood, a town, or even a tropical beach with a number of cabanas! You can set rent at an increased price since you are offering a fully landscaped sim, perhaps with a structure already in place. Create enough rentals that it adds up to a profitable income, but not enough that your tenants feel crowded. The more real estate you can offer them, the more interest you'll have. While it takes time and effort to keep your tenants happy, you will be able to make a profit each month.
Decorate or Landscape
If you've got a large inventory and a knack for making it all look good, then people will pay good money to have you decorate their spaces for them. You'll want to have a collection of items with the 'copy' permission, so you can place one on their land without losing it from your inventory completely. Many decorators charge by the size of the space they're decorating, or how many prims they are expected to put down. If you keep a photographic portfolio of all of your clients, soon your book will be full and the Lindens will come rolling in!
Event Planner
A Second Life event planner does exactly the same things as a real life event planner would. Your clientele include people planning weddings, birthdays, baby showers, galas, and other events or surprises! Its your job to pick the venue, make sure its decorated and that everything from the music, to the ceremony steps, to the invites are taken care of and ready to go. This can be a big job, so its a great way to make money if you are good at organization! However at some point you may need a staff, so this can become a real business if that's what you are looking for!
---
Making money in Second Life can be as simple as choosing what you're good at and using Second Life as an outlet to explore things you want to be good at. Ask youself, if I could do anything in the real world as a job, what would it be? Maybe there is an opportunity in Second Life, and maybe you'll make something Second Life has never seen before!
Good Luck!
Delilah Greyson (amoralie.triellis)
ZoHa Islands Blogger