Shopping Ideas from Thais Akerman
Cajsa Lilliehook covers the best in virtual world screenshot art and digital painting
Thais Akerman's "Kitchen" post for her blog appeals just because it is the opposite of all the usual kitchens that are almost always too neat. This one reminds me of the summer kitchen my aunt and uncle had down by their two-acre garden. The counters were scavenged and had no doors. Instead, my aunt made a bright, colorful curtain uncannily similar to this one. When they harvested, everything was cleaned, peeled, and canned down in the summer kitchen. The compost piles were down by the garden as was the root cellar so everything was to hand. And of course, my aunt and uncle 'borrowed' me during the harvest. All the remaining items are listed in her blog credits, but my mind is fixated on the counters. 
For an eggcellent fashion piece, click here: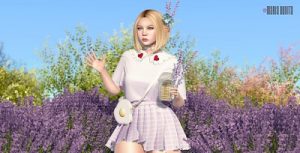 In "Yakitama", Thais again finds a unique piece that adds humor and character to her style, in fashion as well as decor. For this one, it's the eggcellent bag that caught my eye. I love the setting and her stack of cookies, but the central piece for me is the egg bag. 
parfait. Yakitama Satchel ® was a gatcha but it now sold as a fatpack
 Cookies: *Tentacio*   Cold wind cookies
I like Thais Akerman's blog though its name Maria Bunita is a mystery. I am guessing an early name. At the top is a pretty watercolor spray of flowers that gives readers an immediate sense of her fashion aesthetic. Across the top are links to her social media and on the right sidebar, there is a small bio, a search window, archives, and recent posts. Tags fill the footer. Her posts consist of one picture and complete credits. You can read each post from the home page without clicking through. Everything is well-arranged and easy to find. 
There is one caveat, though: When checking the SLurl for Parfait, I arrived at an empty spot and fell to earth. The link in the story is correct, though. This reminds me of my suggestion that bloggers include creator names just in case stores move or change their names. The creator's name will always lead us to the store even if they change their store name from  Alpha to Zed. 
Follow Cajsa on Flickr, on Twitter or on her blog.
Have A Great Week From All Of Us At Zoha Islands And Fruit Islands