The Big 15th Birthday Weekly Gift Grab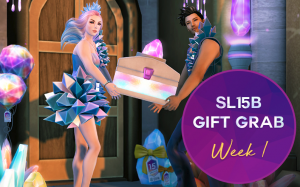 Credit from Second Life Blog
Fifteen years is a tremendous achievement for any community, and we've been hard at work on a fun and interactive gift hunting series to thank our Residents. The Big 15th Birthday Weekly Gift Grab starts today – June 18th, 2018!
For the next 15 weeks, we'll be releasing a different crystal-themed gift each week. All you have to do is find and collect the gifts. Each fabulous gift is available for one week only, and in one Region only. The Region will change each week, and we'll be publishing clues each week to help you find the Region to search for that week's gift – watch the Second Life social media channels and the Blog at for the clues.
How to get started:
Visit the Swaginator HUD kiosk here to grab your Swaginator HUD
Attach your Swaginator HUD
Investigate the clue for the week by checking our Blog or social media channels ( This week's clue is already up so go check it out now!)
Find the Region and start searching
Remember, each gift is available for one week only, and then it's gone. You can collect as many, or as few gifts as you want, but if you want to collect the final super-special Birthday Gift in the final week you will need to have collected all 14 of the previous gifts.
Don't forget to check the Blog each week for updates.