| | |
| --- | --- |
| A common question is "How long will my hard drive last?" It's a very good question, but it might be the wrong question. Read on for some stats on the life expectancy of a hard drive, and find out the more important question you should be asking yourself… | |
Hard Drive Life Expectancy (and the Right Question)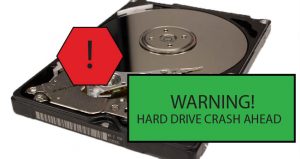 Whenever I am asked, "How long can I expect a hard drive to last?" I reply with, "How often do you back up your data?" This seeming non sequitur perplexes people, but I have found that the answer to my question is, almost invariably, the reason the first question is asked. The questioner is wondering how much longer he/she can get away with not backing up data.
Technobabble about MTBF (Mean Time Between Failure) in the 50,000 to 100,000 hour range is useless. Those hours are active hours during which the read/write head of the drive is moving. You have no way to monitor and record read/write head activity and you don't want to be bothered doing so unless you're a test engineer for a hard drive manufacturer.
Furthermore, MTBF measures mean (average) time before the hardware fails catastrophically, as in "won't spin anymore." That is the very last thing that will go wrong with a hard drive, akin to throwing a rod in your car's engine. Long before the hardware fails catastrophically, you will be experiencing losses of data, and you might not even notice that it's happening.
When data is written to a drive, the magnetic charge of tiny areas of the physical disk is altered. One magnetic state means "0" or zero, the other means "1" or one… or on/off, if you prefer. The patterns of this binary code store your data as a collection of magnetized spots in one state or the other. In order to make the disk reusable, the magnetic state of each spot on it must be changeable.
A lot of things can change that magnetic state beside the drive's read/write head. A strong magnetic field near a drive can scramble data. Power blips can cause a read/write head to write (change the magnetic state of a spot) instead of read, overwriting data with gibberish. Even cosmic rays can penetrate any computer case and zap the data on a hard drive, although a cosmic ray is so narrow it will probably affect only one or a handful of data spots.
You don't believe in cosmic rays? As I like to say, choosing not to believe in something doesn't make it go away. But no matter — natural disasters like fires, floods, hurricanes and tornados also tend to dramatically shorten the lifespan of a hard drive. Even if your brand new 2 terabyte hard drive has no manufacturing defects, it won't last long in an F5 tornado packing 200 MPH winds. And of course, there are well-known threats from viruses, botnets, and ransomware.
So a hard drive is in constant danger of having all or part of its data either erased, corrupted, destroyed, or otherwise rendered unreadable. It doesn't matter if the drive is fresh out of the box or nearing its MTBF. (That list of destructive actions reminded me of another phrase: "Do Not Fold, Spindle or Mutilate". I searched for that and found an interesting 100-year history of the punch card.
What Studies Have Been Done on Hard Drive Life Expectancy?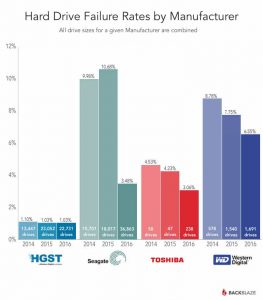 A study on hard drive longevity was conducted by Backblaze, an online backup provider that has more than 25,000 consumer-grade hard drives in service. They found that 78% of the drives they use are lasting longer than four years. That might sound good, but it also implies that 22% of hard drives fail in the first four years.
The Backblaze study identifies the three most common causes of drive failure: factory defects, random failures, and parts that wear out. The failures due to factory defects tend to happen in the first 18 months of service. Failures due to wear out start to increase much faster after the three-year point.
The Backblaze study has been ongoing for several years. Other hard drive studies done by Google and Carnegie-Mellon University have been five-year spans, and both were conducted in 2007. So there just isn't an authoritative answer as to how long a hard drive will last. Backblaze has some stats that give them confidence to predict that more than half of all drives will last six years. I think you'll find their report interesting.
What Are the Implications?
Let me summarize and pontificate a bit. About one in five hard drives will fail within four years. Failure rates start to jump after three years. And there's a 50/50 chance your drive will last six years. Does that give you a warm fuzzy feeling? I'd rather not rely on luck and statistics. My advice is simple… why take chances?
It's vital to back up your data regularly and not just whenever you don't feel like doing something else. Regular, automatic backups are the best defense you have against loss of data.
Have a great week from all of us at ZI