Greetings ZoHa Islands!
So for this installment I figured we'd bring you a little something different than we have been showcasing, this place offers some really nice stuff – poses for your pictures, custom photography and pose service too. She's very good at what she does might I add. Whether it be a profile pic, a business advertisment, modeling portfolio…She's got ya covered. So stop on down and take a peek!
Store/Business Name: Project Puppet Poses
Store/Business Contacts and Title: Bren Dovgal – Puppet Master
SLurl: BUSINESS DISTRICT ECHO
Website: http://projectpuppetphotography.webs.com/
Flickr Accounts: Poses Group & Photography
KittyKat Jules: What does your store sell or what does your business do?
Bren Dovgal: Project Puppet Poses offers high quality static poses for photography. At this time we have only poses for women but we're about to begin catering for men too. We have already begun adding couple and friends poses to the collection. We also offer a custom pose service.
KittyKat Jules: How long has your business been established?
Bren Dovgal: The pose store is brand new, but the Project Puppet brand was established a littler a year ago now. New Poses are being added daily though, Its very exciting ♥
KittyKat Jules: What made you want to start up your business and what drives you to keep going?
Bren Dovgal: I've been a sl photographer since i started 5 and a half years ago. On occasion I have had to make custom poses for my photo clients so it was an obvious progression for me to open a pose store too. What drives me to keep going…. Its fun to create and to see the results in another photographers images.. I get a kick out of that.
KittyKat Jules: Any exciting happenings or new items you'd like to show off for us?
Bren Dovgal: This is our Group Gift which will be available until the end of December
♥♥ Group Gift! ♥♥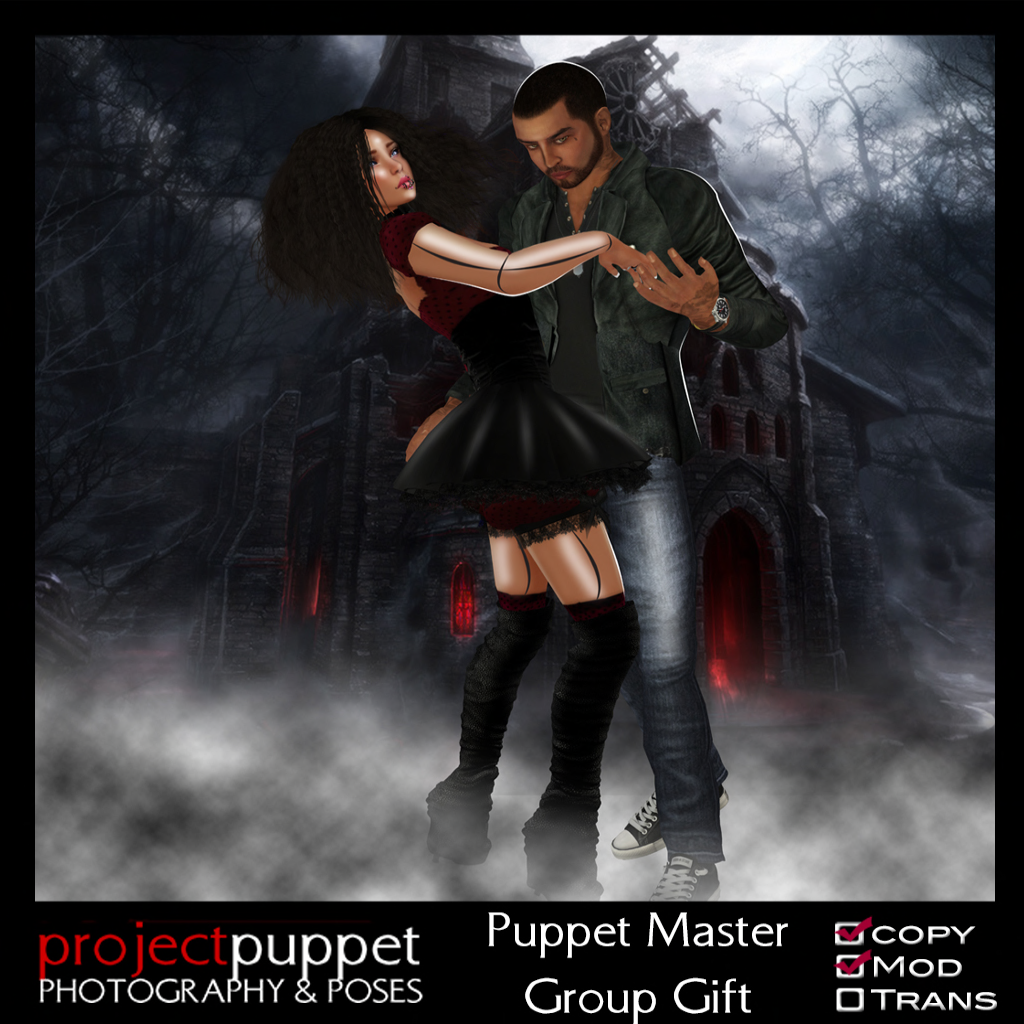 This is our most recent new release ♥

KittyKat Jules: What would your advice be to the new business owner in Second Life?
Bren Dovgal: I would say to be patient and consistent in the quality of your work. Its also most important to do it because you love it.
KittyKat Jules: How did you originally get started in Second Life?
Bren Dovgal: Wow such a long time ago! A friend Bren Dovgal: I had met from another game showed me around and helped me get started….I never looked back
KittyKat Jules: Any hobbies besides running your business? What do you like to do in SL?
Bren Dovgal: Aside from my pose store I have my photography studio. I'm a sl photographer.. I would say that is my hobby. I do that for RL and SL. I do love shopping! And really nothing beats having laughs with my best friend. That's what SL is for.
So that wraps up this one….time to explore and bring you some more great places!
Warm Regards,
Kittykat Jules
Assistant Manager – Public Relations/Marketing