ZoHa Islands is turning 10!  In celebration of this wonderful achievement in Second Life, we'd like to announce our annual fall celebration with a 10 hr performance, with 10 great live performers and 10 exciting prizes (TBA).
October 27th, 2017!! Mark them calendars!
Yes that's a whole lot of 10's and we are sure this will be a 10 of an event as well.  We hope to see you all there!
Here is a tease preview of a little bit of what we have in store for you who make ZoHa Islands the success it is today!
1PM – 2PM SLT 
Known for her distinctively gentle, French lilt, Mimi Carpenter's talent as a self-taught musician has graced the Second Life music scene for a decade. As her presence and talent grew, so too did her repertoire of covers and originals. Mimi's extensive song list doesn't just highlight the eclectic tastes and influences upon her development as an artist, which includes rock, indie and pop. The inclusion of English, French, and German language songs reflect the travels and experiences living throughout Europe and abroad.
So it should come as no surprise that a couple years ago Mimi chose not to limit herself to the acoustic guitar and began to incorporate piano to her sets. Mimi has branched out into sharing her music at real life venues in Germany, as well as posting some of her latest music to YouTube. Never one to settle and languish, Mimi's shows continue to share her journey always moving forward in life and music. ~Written by Garrett Lutz~
s posting some of her latest music to YouTube. Never one to settle and languish, Mimi's shows continue to share her journey always moving forward in life and music. ~Written by Garrett Lutz~
2PM – 3PM SLT 
Wolfie Starfire, also known as Meg Groves in real life, is an up-and-coming artist who grew up surrounded by music, theatre, and art. She took interest in theatre at a young age, and aspired to be successful in the worlds of both music and film. She took many singing, acting and dance classes, and she dabbled in the film and commercial industries. Her desires are entirely based on some day becoming an acclaimed songwriter like Taylor Swift and an acclaimed singer and actress like Kristen Chenoweth. Meg is currently pursuing a BFA in Acting at Coastal Carolina University.
With her love of music firmly in tow (and hoping to share her music with others), Wolfie released her first album, Spark, which is a heartfelt blend of contemporary pop, country, and blues, with a musical ability that belies her young age. She has a gift for writing her own music and lyrics, which are inspirational, thoughtful and moving. This ensures that more than a few of her songs will get stuck in your head while you listen to each of her tracks.
Wolfie believes that music should tell a story or a lesson in life, which leads her to write songs that have real meaning and lyrics that others can relate to them. This makes sure that each song expresses how she feels, while still encouraging each listener to discover what each song can mean to themselves.
3PM – 4PM SLT 
Premier Second Life live performer and real life music professional, Winston Ackland provides smiles with his clever original works and quirky adaptations of obscure covers. Somehow, it all makes sense as audiences relax in a comfortable atmosphere and enjoy innovative songs crafted from a blend of rock, blues, bossa nova, jazz and lounge. Winston is able to connect with in-world audiences like no other.
Simply put, Winston Ackland is a musical party with old friends you haven't met yet.
Resume:
Accomplished RL musician for over 20 years. December of 2008, RL and SL merged when Winston's cover of "Lithium" hit the big screen in 20th Century Fox Films blockbuster hit, "Marley and Me", and again in the summer of 2012, when Winston's cover of "Psycho Killer" was featured in Oliver Stone's "Savages".
4PM – 5PM SLT
Melenda Mikael's love of singing started very young when she'd follow the sound of her grandmother's singing throughout the house. Embarking in a life of singing from age six, Melenda started with choir, then progressed to musicals and singing competitions, where she earned the highest of praises, during her formative years. Growing up, she soaked up as much music everywhere she went. That diverse background is the reason that her shows in Second Life can run the gamut from Radiohead covers to jazz standards and Etta James. Some might characterize her as a quiet wallflower at first, and some may even find her voice to be tender as well. But make no mistake, Melenda's voice is capable of belting out something powerful.
Continuing to sing, on and off, with several choir groups since growing up, Melenda has just recently made the leap to the live music scene here in Second Life. Currently, her shows are performed to backing tracks. But rest assured, she's hard at work learning guitar, though she jokingly says one of the small road bumps is learning to tame an unwieldy, large guitar. She is forever grateful for the people that have helped gently push her down this path and she hopes that you enjoy the music. ~Written by Garrett Lutz~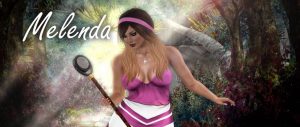 5PM – 6PM SLT
SAMM QENDRA
Via Ms Qendrs's Profile..such serne words.
Music is the way I speak
way i express my deepest emotions
when i sing , everything seems possible
When i sing , For once , theres only me in the universe where i can just be me
My musical Influence is LIFE
each and every bit of supports that i blessfully get in sl , is what keep me going ♥
6PM – 7PM SLT 
CRYPTIC HARMONY
8PM – 9PM SLT 
SaraMarie Philly was born and raised in Indiana (USA). Her parents both had factory jobs, but they also had a small rabbit farm. In college, she studied Voice, Piano, Clarinet and Violin at Indiana State University, and graduated from West Chester University in 2010 with a degree in Music Education.
Playing music for people creates a connection that goes beyond what can be expressed in conversation. For SaraMarie, it's a way of sharing life experiences and expressing empathy for the experiences of the listener. These connections are what keep people interested in an artist's music, and what keep an artist interested in sharing it. As a performer, connecting to the audience is important to her. In SL, singer/songwriter SaraMarie performs original and pop music covers, while playing guitar or piano.
In RL, Sara Tiemogo (SaraMarie Philly) released a CD in 2011. The songs were mixed and mastered by Grammy-nominated Producer, James Cravero. The CD is titled "Red" and has 12 fully produced original songs.
9PM – 10PM SLT 
A storyteller, AMForte Clarity has captivated audiences with her tales of life and travels, experiences of being a Canadian living in the US and her daily challenges. She's a singer/songwriter with an amazing voice and warmth of character that will make you think of her as more of a friend!
With influences that include U2, Nirvana, Radiohead, Alanis Morissette, Coldplay, Placebo, The Cranberries, and Elliott Smith, she plays mostly her own originals, and her cover tunes are songs she has taken and made her own.
10PM – 11PM SLT 
Alex Mays: Lead Vocal/Lead Guitar/Background
Genres: Rock/Blues/and so much more
Born and raised in rural North Carolina, Alex Mays grew up listening to his father play guitar and sing. At the age of ten his father gave him an acoustic guitar and started teaching Alex to play. He began learning his father's favorites of old time rock and roll and country. By the age of 15, Alex began trying his hand at song writing and singing. He moved from his rural upbringing to Kalamazoo, Michigan at the age of 20. Alex began playing the Kalamazoo circuit and branched out into blues, jazz, and even tried his hand at bluegrass.
Alex Mays has been writing music for over 15 years. Styles ranging from Rock, Blues, Southern Rock and Jazz, Alex could never settle for one kind of music. Keeping music true and from the heart is his belief.
Now living in Kalamazoo, MI, Alex plays all over the world with different rhythm sections of choice. At his show you might also hear quite a range of styles, covers and originals.
11PM – 12PM SLT 
GIBSON
A musician in real life for 20 plus years, Gibson is a singer/songwriter who plays piano and acoustic or electric guitar for his Second Life shows. You can find Gibson playing a number of genres of music, such as: Blues, Classic Rock, Pop and Today's Hits. Gibson thrives in engaging with his audience, putting on an exciting and unique show each time he performs. This talented artist is a must see!