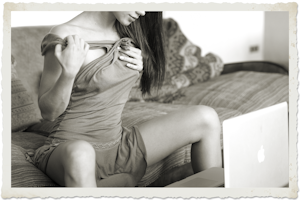 It may come as a surprise to few, but there is such a thing as "escorting" in Second Life. I'm not here to bash it, judge it nor the people who decide to partake in it as participants, but I did feel the need to open a dialogue about it. Just a friendly reminder: this is my own perspective and not that of ZoHa Islands.
Over the years in Second Life, I was keenly aware that there was a strong consumer base for virtual escorts. There are an unimaginable amount of people who would offer "sexual" services in Second Life via text or voice interactions (of course, coupled with appropriate animated furniture and props), but as of late the "camgirl" end of the spectrum is starting to take over like a brush fire.
If you simply search the term "escorts", you'll turn up some incredibly high traffic results. I hopped around to visit a few and almost made this a piece about the individual establishments. However, I realized I needed to speak with a veteran in the industry.
Those of us who have been involved in Second Life know that it's quite difficult to actually earn a reasonable income in Second Life without a good deal of investment and skills that make you stand out above the rest. Many try, and few succeed. But I sat down with a good friend of mine to discuss her experiences over the years in the "virtual sex industry" that thrives in Second Life.
She's asked for her identity to be kept private, so we'll simply call her "Eve".
Eve has been a virtual sex worker since 2009 and has built herself a client base that is so amazingly strong that her full-time "escorting" earns her enough to make a full time wage in Real Life. It is a bit of a rare case, but Eve has made it into her primary job. She shared some insight as to how the industry has changed over the years.
"When I first started, people were generally content with the option of voice or text. I was mainly a voice escort, meaning there would be no typing. I basically would be going through the sexual experience of choice with a customer from start to 'finish' on voice. It paid considerably more and I was comfortable with it, so I decided to spend a bit more time offering those services.
Originally I worked through a gentleman's club and was generating a good deal of revenue as people sought me out more. But, after I became a bit of a seasoned veteran, I decided to branch out into freelancing. It was a bumpy road, but with the existing reputation I had already built for myself it made sense. I invested in adult land, set up a classy space with themed rooms and invested in advertising on multiple sims that allowed freelance advertising.
It's hard to stay motivated to do several days a week- I will admit that. But for several years now I've been able to generate enough income that I can stay at home and escort several hours a day. But, in the past few years the industry has heavily transitioned to being cam-centric, meaning more and more people would only shell out money for those women that would perform a sexual webcam session with the customers. It's a bit awkward to admit, but after seeing that I couldn't entice people with voice as much as I had been able to (and, had trouble commanding the rates that I normally require) I had to make a decision. I ended up offering services as a camgirl in Second Life.
Obviously, this is not an option for everyone. It's easy to have a nice voice and a great looking avatar, but now we're branching into bringing the sex industry from Second Life to Real Life. Women that were, essentially, role playing with their voices and avatars are now full-fledged moving into the real world sex industry but sourcing their clients in a virtual platform.
It's almost gotten to the point where I almost expect the industry to eventually be shut down or regulated in Second Life. In a way, I do hope they move to regulate it, much like how the Skilled Gaming had to be regulated to keep things compliant. It's very much "anything goes" and really, I have to require that people cam verify to ensure I'm not dealing with anyone nowhere near of age. Yes, I've asked for people to hold up proof of ID with cam sessions if I wasn't 100% sure. To me, that's much more important than anything."
I can't speak for everyone involved in the industry, but Eve's perspective does beg the question: should there be guidelines around it? While it still seems to be a lucrative industry for many, is it a safe one?
I would love to hear some other thoughts and perspectives surrounding this piece. Make sure to tweet us with your feedback!
Bria Oceanside
ZoHa Blogger/Social Media