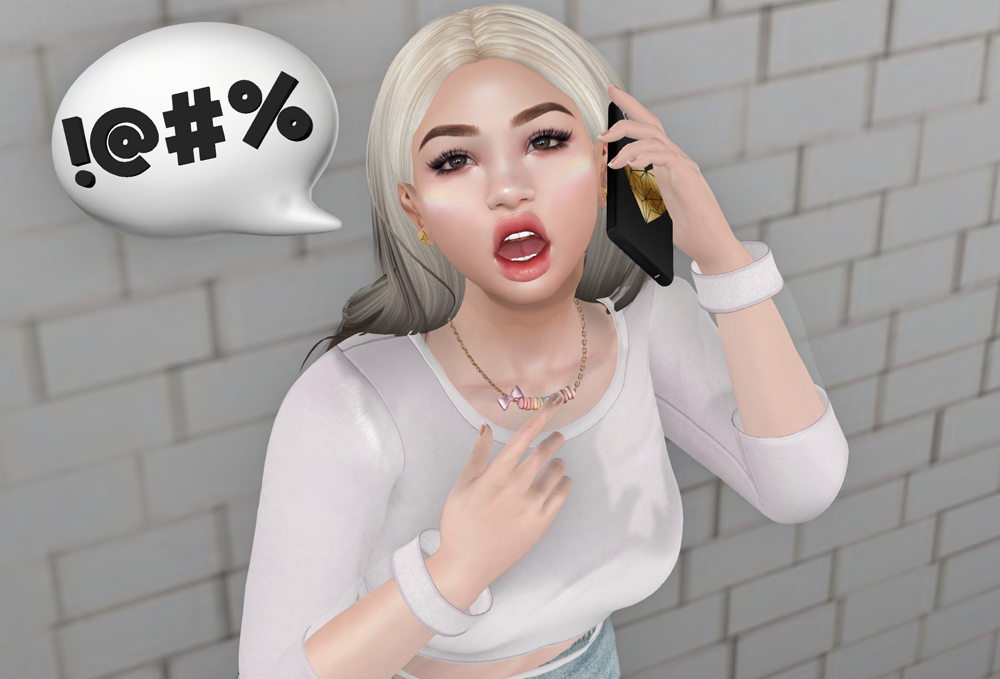 If you've ever found yourself bored and idling within Second Life, you've likely realized (with much frustration) how difficult it can be to find friends or people with similar interests by simply hopping from grid to grid.
With social interactions at the center of this virtual world, it's a wonder that making connections is so difficult. Second Life's interface based attempt at connecting the world is a destination guide, which lets you browse popular places and easily teleport to those which are currently populated. This list is full of dance clubs and beautiful vistas – but leave out the 'niche' communities where many of us find our homes and communities.
That's where social media comes in. External social media platforms such as Facebook and Twitter make connecting easier by letting us view a window into people around the grid via updates and information publicly shared. No need to worry about privacy concerns! Second Life social media users use their avatar's name and photos to make accounts just like they would with their real life identity.
Of course, social media doesn't take away the fear of having to make that first step at communication. It does give us many more opportunities to find people to talk to, places to go, brand new releases, and breaking news – something you just can't find in world!
Ready to explore Second Life like you've never seen it before? Let's see where people are talking…
The most widely used social media platform is Facebook because of its ability to easily find and connect with other Second Life user and businesses.
A large amount of clothing stores, venues, events, and clubs have created pages for following which allows users to keep up to date with things that are happening now in world. If you're ever bored, within a few scrolls you'll see the release of a new item to check out – or a link to a blog post that features a new location to explore. Of course… messaging a new friend is only ONE click away. (Don't be shy!)
Facebook is essentially the largest external hub of information from businesses and users alike. It's a place to share art, exciting personal achievements, ask questions about how to do things within Second Life, post pictures of the avatar you've worked hard on, and keep up with old friends. With everyone sharing their stories, you're bound to find a few that were meant to fit perfectly with yours.
Check out the Zoha Islands facebook page to see what it's all about!
Disclaimer : One slight hiccup – Facebook does NOT condone the creation of accounts that are not your real life identity. Your account can be reported and removed for using your Second Life identity. While this fact is widely known, people still continue to use the platform and re-make accounts after they've been deleted simply because at the moment is the best social media platform for Second Life! The only way to stay 'safe' is to use your real life name. It is not mandatory (most people don't) but advised to stay away from being reported.
In reaction to the accounts that were getting reported on Facebook, a new social media platform especially for Second Life avatars was created. Their mission statement reads…
OnLinker.com is safe and friendly social network for Second Life users. Make new friends, find romantic connections, share your photos, create events, write blogs and much more… all for free, and without the possibility of being banned for being 'not real'. Because at OnLinker, Second Life is our focus.
With much of the same features as Facebook, OnLinker looks to be a promising source for social connections outside of Second Life. It is fairly new, so users are still migrating from Facebook and still using Facebook more heavily. But in anticipation for a harder crackdown on fake accounts in the future, it's advised to hold an account here and start supporting OnLinker as your main social media platform.
If you're more interested in 'viewing' second life happenings rather than being an active social member, Flickr holds a large collection of photographs and artwork from Second Life users (at a much higher resolution than Facebook!). Stores and businesses also post photos of their latest happenings, so you can always stay up to date. Join groups within Flickr to become a member of your favorite communities!
Many contributors to Flicker post a link to their blog in the description of their photo. Bloggers tend to detail out which items they are wearing in their photograph, and sometimes give you the location of the shoot as well. This is a great way to find new things and get a feel for popular spots within Second Life! Its against Flickr's policies to allow users to post directly to a money making source – so you won't find MP links, but that's what blogs are for!
Zoha Islands posts pictures on our Flickr page!
Twitter is popular for 140 character updates that are published as quick quips or thoughts. Many people use twitter to share their photos or blog posts, and some use it just to think out loud.
While not the most popular of the social medias for Second Life, it can be useful for short attention spans and getting out streams of thoughts. It's all about what resonates with how you take in information, and some people are just #TeamTwitter over Facebook!
Check out the Zoha Islands Twitter page to get a feel!
Plurk is most similar to Twitter, and it's more 'Second Life focused' companion. (Much like Onlinker is to Facebook).
It does have quite a few differences than Twitter while its the same in essence. The timeline scrolls horizontally rather than vertically, and posts can be much longer than 140 characters. Users are given a karma score so you can easily see who is active and weed out people who aren't. It's similar to Facebook in that people can respond to your posts and start a conversation.
Unique to Plurk is that you can post anonymously and people can still respond to your post – so you can get your feelings out while hiding.. And still remaining social!
We've got a Plurk too! Check the Zoha Islands Plurk Page.
---
While not a comprehensive list of all of the specialized platforms on which we can meet people, these social media sites can be a great help to finding like-minded communities and and events. They all work towards the goal of bringing us closer in world, and can enrich our Second Live's through a deeper connection and capacity for immersion.
There's something for everyone within Second Life – I hope these outlets help you find yours!
Delilah Greyson (amoralie.triellis)
ZoHa Islands Blogger