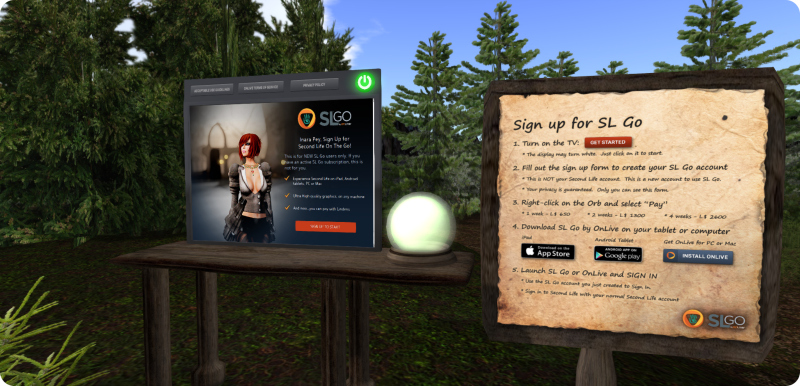 OnLive, the service that provides games, including hosting the SL Go site, announces that new users who sign up for SL Go inworld can use Lindens to pay for their service. Please note existing users cannot use Linden dollars at this time. However, it is going to be made available for existing users in the future.
Here is the blog post taken directly from the SL Go Blog found by clicking here: SL Go — Now Pay with L$
"You've probably heard of SL Go, the viewer that streams Second Life from the cloud in ultra-rich graphics, right to your tablet or low powered computer. You might have wanted to try it, but hate giving out your credit card info and personal information. Well, we now have a great solution for you!
For a limited time, if you sign up for SL Go with a NEW USER account you can buy weekly subscriptions in-world using Linden Dollars (L$). There is a private sign up booth where you can create your free SL Go account, and then pay for subscriptions using L$. Each week is only L$650, and you can buy up to 4 weeks at a time. Also, you can return and renew or extend your subscription in-world at any time.
Sorry, but existing users with monthly subscriptions will need to wait for this feature. It is much more complex to transition an account from US Dollars to Linden Dollars. We will be bringing this feature to you soon.
Paying for SL Go with L$ has been one of the most common requests we have received in our forums and chat rooms. We are very excited to offer this now to new users. We hope this makes it much easier for you to be a part of our growing SL Go community."
Teleport here to Sign Up in-world:
http://maps.secondlife.com/secondlife/Sunny%20Dream/230/147/22
I remain respectfully yours,
~ Suzanne Piers, ZoHa Islands Social Media