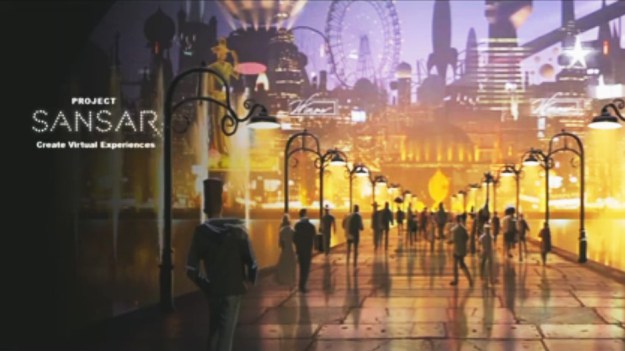 Now that the new platform is well underway, Linden Lab is giving us a glimpse into this other platform and what it means to Second Life residents, as well as new users of virtual worlds.
In an article published on the Xconomy.com website, and in an interview Ebbe Altberg gave in world at the SL12B celebration, more is being revealed about the timeline, the economy of Project Sansar, and more.
In an article on xconomy.com, Linden Lab is preparing to test this "parallel universe." This article emphasizes again that Project Sansar is not a different version of Second Life. While Linden Lab has been making improvements to Second Life, "It would take more than just tinkering to retrofit it for current virtual reality hardware while keeping the site up and running," stated Ebbe Altberg. Project Sansar is being created to be used with the virtual reality headsets, such as Samsung's Gear VR and Oculus Rift (those two companies are still duking it out to see who becomes King of the VR).
The article states, "Although Second Life is still a popular online meeting place, as well as an e-commerce marketplace with a GDP greater than $500 million, Altberg says Linden Lab's leadership team decided last year it needed to build a new world from the ground up if it wanted to succeed in the future."
Alpha testing for Project Sansar will begin toward the end of July. Handpicked, eager to build something in the new virtual reality medium will be invited to the alpha testing, Altberg says. These guests, (they are not going to be Linden Lab staffers) will use each other's games and other invented environments, trade feedback, and tweak their own work, he says.
About a year from the alpha release, Linden Lab will begin inviting ordinary users to explore Project Sansar, with a more public beta testing sometime during the first half of 2016, Altberg says. A version 1.0 might be ready by the end of 2016.
Quoting directly from the article:
"While Linden plans to do many things differently in Project Sansar than it does in Second Life, it will also draw on its dozen years of experience operating a pioneering site in several different fields: virtual reality, user-generated content, e-commerce, and virtual currencies. In Second Life, users can buy its currency called Linden with their credit cards at an exchange rate of 250 for one dollar. They can also earn Linden as participants in the Second Life economy, and cash out their virtual currency. Altberg says users redeemed a total of $60 million in 2014.
"Among the products and services for sale are makeovers for one's avatar. Second Life's standard-issue, free avatars all look like minor Marvel Comics characters—maybe to appeal to the male fans of digital games who flock to virtual reality sites. But users have also used Second Life for more diverse activities—to host meetings, offer college classes, teach each other languages, open fashion design houses, and set up real estate businesses. (The pirate ship with dirigible shown above is a Second Life creation.)
"Linden [Lab], which is profitable, earns revenues by renting "land" where users can build their virtual homes, museums, shops, or racetracks, at the rate of for $295 per month for a plot of a little over 16 acres. Users who only want to pitch a tent or open a taco stand can rent smaller spaces from virtual real estate businesses that lease large properties and then create subdivisions, Altberg says."
Linden Lab continues to state emphatically that Second Life will live on after Project Sansar opens its doors as a parallel universe, probably under a new name.
"It's still very popular and very successful, so we have no plans to discontinue it," Altberg says. Second Life now hosts about 900,000 active users a month—a bit lower than its peak of about a million years ago. As a private company, Linden Lab doesn't disclose its revenues. It had raised a total of about $30 million in equity financing by 2006.
The article on xconomy.com goes on to state:
"Linden's employee count is now more than 213 "and we're hiring as fast as we can," Altberg says. Most of the new hires will support Project Sansar.
"Linden plans to make it easy for Second Life denizens to migrate their virtual activities to Project Sansar. But the alternate virtual world will have new features, and will operate by somewhat different rules.
"Altberg says the company is looking to scale up on a number of fronts, including the size of events that can be held in Project Sansar, the number of avatars participating, and the amount of money users can make through their projects.
"For example, Linden wants users to be able to make an unlimited number of "copies" of profitable constructs they've created. If an entrepreneur builds a virtual chemistry lab for a college class, that lab could also be sold to other colleges that want to teach chemistry, Altberg says.
"Competition within the virtual community might heat up in Project Sansar, because Linden wants to lower the barriers to entry for creators and entrepreneurs. The company is working on tools to make it easier to build something for advanced virtual reality hardware without being a professional developer. It's also changing its revenue model.
"Rather than making most of its money renting land, Linden would make land cheaper, but charge taxes on users' revenues from in-world businesses once they've succeeded. This could open up the site to new kinds of businesses, Altberg says.
"Some businesses in Second Life may not have the same success in Sansar," Altberg says.
The full article can be found by clicking here: Second Life Creator Linden Lab Prepares To Test Parallel VR Universe
Clearly, things will be completely different in Project Sansar, VR will be the norm; the economy will be more resident-driven than land-driven. It will be interesting to see how this all plays out.
Meanwhile, here's the video from the interview Ebbe Altberg (a.k.a. Ebbe Linden in world) gave at the SL12B celebration:
I remain respectfully yours,
~ Suzanne Piers, ZI Blogger/Social Media