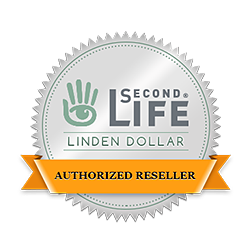 We are proud to announce that ZoHa Islands became today an Authorized Reseller of Linden Dollars.
To give Second Life users more options to purchase Linden dollars for use in Second Life, Linden Lab is piloting an Authorized Reseller Program. This program authorizes third parties to resell L$ (that they purchase on the LindeX) to Second Life users, using a variety of international currencies and payment methods.
Participants in the Authorized Reseller Program have been approved by Linden Lab and have agreed to the Program's Terms and Conditions.
Reselling L$ outside of this Program and/or purchasing L$ from unauthorized resellers is a violation of Second Life's Terms of Service.
For the terms that govern the operation of the Authorized Reseller Program, please see the Linden Dollar Reseller Terms and Conditions
Click here to BUY your Linden Dollars from ZoHa Islands.