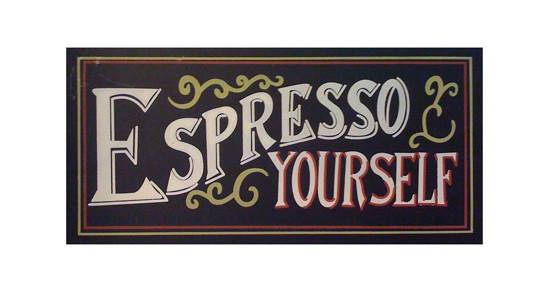 I thought long and hard about what was going to be my intro into sharing some of the excellent facets within Second Life. It didn't take me long to realize the perfect starting point: the Espresso Yourself open mic night in the heart of Bay City- a serious personal favorite of mine. Held the first Tuesday of each month (hint hint: that means you can join in the fun this coming Tuesday) you will find an amazing mix of voices and visions as they take to the stage to perform, read, or even rant. There's never two nights that are even remotely the same. Everyone who attends is welcome to take to the stage or participate as an engaging audience member.
Second Life is, without a doubt, an awesome place to get seriously creative. But, as I caught up with the wonderful person who runs Espresso Yourself, Marianne McCann, she explained that she saw the need to fill a very obvious gap in-world:
"It started back in mid-2013, not too long after opening The Pen coffee shop with Ever Dreamscape. In my first life, I used to go to an espresso bar that existed on the alley of an alley in Southern California. I wanted to recreate some of that ambiance, and introduce some of the "beat culture" to Bay City. One of the things that was done on Tuesdays at that old espresso bar was an open mic called… Espresso Yourself. I nicked the name and decided to try and revive that old event virtually."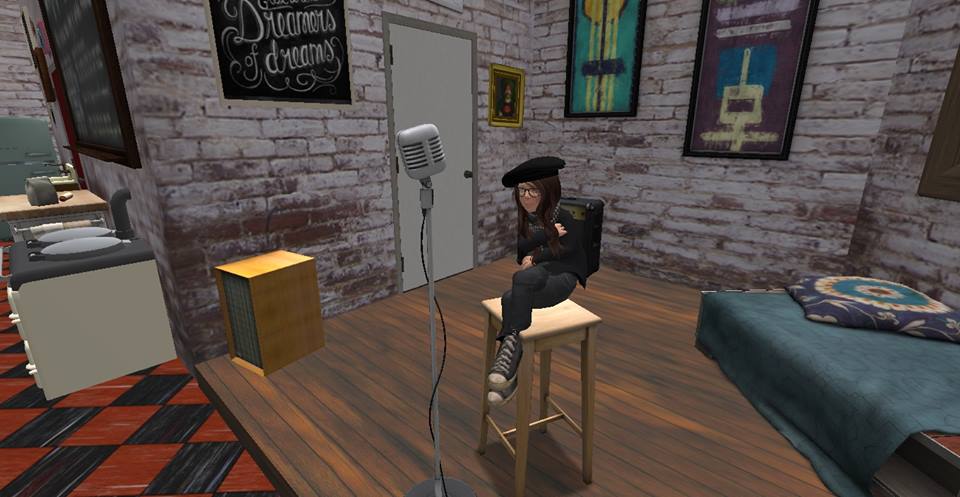 And she's done a fantastic job of it. Every time I've attended there's been a buzz of excitement and an assortment of wonderfully eclectic and vibrant personalities as people would go on stage to perform. Sometimes someone would take the stage and simply present some ideas and engages the audience in giving feedback or information is shared as "pro tips" for the ambitious people that are trying to learn new skills within Second Life. It's hardly predictable and incredibly rewarding to both perform and attend. It absolutely captures the very feel that Marianne was after in both the environment and the caliber of people it drew.
Marianne went on to add:
"One of the fun things with it is seeing the diversity of people who attend. New folks and old, Residents and Lindens, etc. Folks bring stories, poems, jokes — even some have sung or played instruments. It's always something different."
With the next Espresso Yourself happening on November 3rd (6-8pm) I would highly suggest joining in! It does fill up quickly, so you'll want to get there a bit early. Whether you opt to take to the stage or get cozy in one of the plush café chairs and enjoy it as an audience member, it is an absolutely unique and creative experience for all. I know I will be there!
-Bria
ZoHa Islands Blogger/Social Media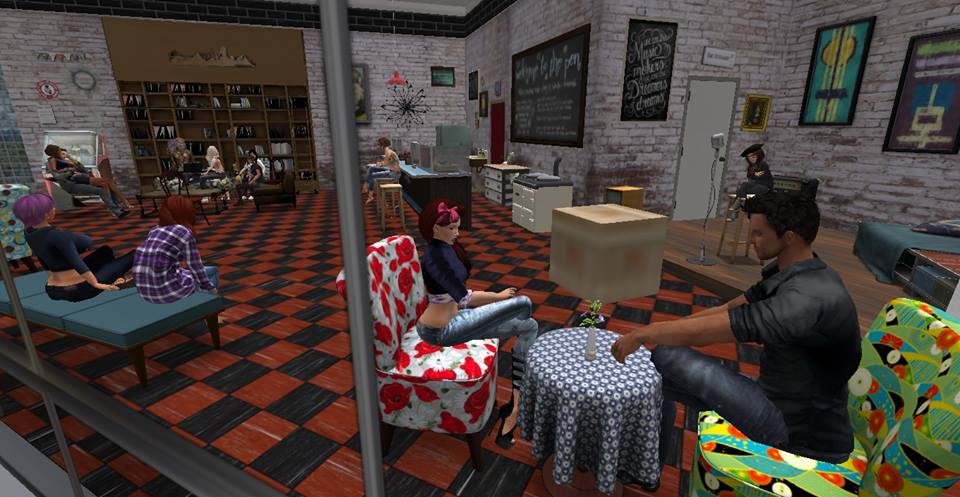 Your Taxi To Espresso Yourself
Additional Information:
The key here is to participate.
How can you participate?
Just choose an item off our menu!
1. ESPRESSO
Our main stock in trade: Read a poem. Poetry is always encouraged at the pen. Share one of your own, or one by someone else. Read it on voice or type it out. You can even pre-record some sound files if you want to get really inventive.
2. CAPPUCCINO
Share a favorite story. Could be something you've experienced that you want to share. Could be a story out of a book that makes you think or that you just enjoy. Maybe it's a story of your own, too, that you wish to share. All is encouraged.
3. CAFFÉ AU LAIT
Share a picture of something you've built recently – or something you've built in the past – tell us about it, what were the challenges? What was fun? Share the experience.
4. CAFFÉ AMERICANO
Free Advice. Tell Linden Lab how to fix Second Life, or tell us how to use it! This is soapbox time! Rant, rave, share.
5, CAFFÉ MOCHA
I read the news today: tell us something you read in the newspaper/saw on the telly/spotted online that caught your eye. Tell us what's going on!
5. CAFFÉ MACCHIATO
Random beauty! Show us a photo of something that caught your eye. Share something of beauty and tell us about it. Maybe it's a pretty thing from your first life, or maybe it's a gorgeous place in here.
6. CAFFÉ CORRETTO
Surprise us: hand puppets,. juggling, wacky gags, etc.! Do something different, weird, and wild. Delight the audience by going outside the box.
Just want to hang out? We'll let you can do that too: but you can still talk, still interact, and still be a part of the show. Everyone is a participant, even if you might not realize it.
Also, why not toss a few bones in the ol tip jar, too, or buy a fresh cuppa? It helps keep the lights on.
Espresso Yourself night, every first Tuesday from 6-8 p.m. SLT at The Pen, located in the heart of Bay City – Mashpee, just off Route 66!