So you have an older computer that's struggling to keep up with modern apps and operating systems. Maybe it's bogged down with the weight of cosmic crud that's built up over the years. Should you junk it and buy a new one, or upgrade its capabilities? If you can afford only one upgrade, which will give you the most improvement for your money? The answers are highly dependent upon your specific circumstances, but here are some general guidelines…
Should You Upgrade Your Old, Slow Computer?
First, ask yourself whether your computer is too slow for you, or for someone else. Did you think, "Gee, my computer is slow" before your spoiled nephew with the brand new computer said, "Gee, your computer is slow!"? If you're getting done all you want to get done, and fast enough for you, you may not need to upgrade. But if you're not satisfied, read on!
Some upgrades do get more work done faster, while others just make work more pleasant for you. A bigger monitor may be just what your tired, watery eyes need. A more ergonomic keyboard or mouse is another comfort upgrade; not that comfort doesn't improve performance, but it's mainly the comfort that counts. Twenty years ago, I was diagnosed with carpal tunnel syndrome. My doctor suggested both drugs and surgery, but switching to an ergonomic keyboard with the split/curved key layout completely eliminated my pain. When I type on a "regular" keyboard (the cheap, rectangular ones that usually come with new computers) I feel that familiar wrist pain again.
Upgrading a monitor is a significant investment.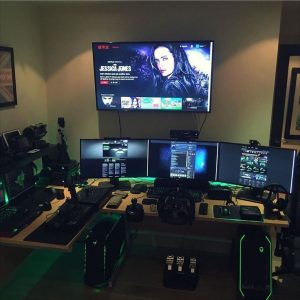 But if you're often using two programs at once, or find your limited screen real estate is slowing you down (switching from one app to another, or always scrolling), a larger, higher resolution monitor may be a good investment. But you should also consider ADDING a monitor. Consider the potential benefits of adding a second screen to your desktop setup.
Amazon has a selection of 24-inch monitors (rated 4-stars or higher) starting at $89.99. This Sceptre 24-inch LED Monitor has both HDMI and VGA Ports, Full HD resolution built-in speakers, and tiltable stand. If you want something larger, this Dell D-Series 31.5-inch monitor is on sale for $164 with free shipping. Two of those would make an awesome dual-monitor setup! Keep in mind that you may need a better graphics card to match the capabilities of a modern monitor, or a dual-monitor setup. A dedicated graphics card can take some computing burden off your CPU, making actual computation faster; but the increase in CPU performance won't be very large.
Upgrading Memory and Hard Drive
More RAM memory provides significant performance boosts at reasonable cost, up to a point. If you have too little RAM for the types of applications and the size of data files that you use, a lot of time and CPU power is wasted swapping data from RAM to disk and back again in "pages." On the other hand, excess RAM just sits there idle, a waste of money that makes no discernible difference in performance.
A rule of thumb is that general home users need a minimum of 4 GB of RAM; business and power users, 8 GB or more; and only the busiest video editors, database administrators, or gamers need 16+ GB of RAM. But modern versions of Windows can work with up to 2 TB (terabytes) of RAM memory. The operating system you have is very important when considering buying RAM.
Increasing the size, thoughput and access speed of hard drive storage is a tempting upgrade option. A traditional magnetic hard drive that spins at 7200 rpm is much better than one spinning at 5400 rpm. Solid-State Drives (SSDs) are the bleeding edge of mass storage technology, but they are still expensive compared to magnetic hard drives. But here's something to consider… right now, a 1 terabyte (1000 gigabytes) magnetic hard drive costs about the same as a 256 GB SSD drive — roughly US$50. But if you've only got 100 GB of data, the SSD is obviously a better buy, even though it holds about one fourth as much data.
If you're thinking about a new hard drive because you're running out of space to stash your stuff, first try a little spring cleaning, and see how many gigabytes of garbage you can eliminate. Unwanted software, temp files, and duplicate files can chew up a lot of space. A careful pruning of music, photos, and video files may yield big gains as well.
A word about Windows 7 seems appropriate here. You may have read articles in the tech press that Microsoft will end support for Windows 7 in January 2020. If you're running a computer with Windows 7, that does not mean that it will stop working next January 14th. Nor will you be forced to upgrade to Windows 10 at that point. It does mean that you will no longer receive Windows updates for security issues that arise after that date. Probably. Microsoft has extended these "end of support" dates in the past, but there's no guarantee they will do so. When the end of support for Windows 7 does arrive, you'll need to decide of you want to stick with a 10-year-old operating system, or move to Windows 10, which is arguably more secure. If, between now and then, you end up retiring your old computer and purchasing new, your choice will be made for you.
Deciding whether to upgrade or buy a new machine can be difficult. If you can install upgrades yourself, just add up the costs of planned upgrades and compare it to the price of new machines. But that simple cost analysis ignores half the cost/benefit ratio. You really don't know how well an upgraded computer will perform until after you buy and install the upgrade(s), so it's impossible to compare it to a new machine.
Generally, I would buy new rather than spend more than a third of new's cost on upgrades. What upgrades have you done on your computer? Are you glad you did? Have a great week from all of us on the ZI Staff