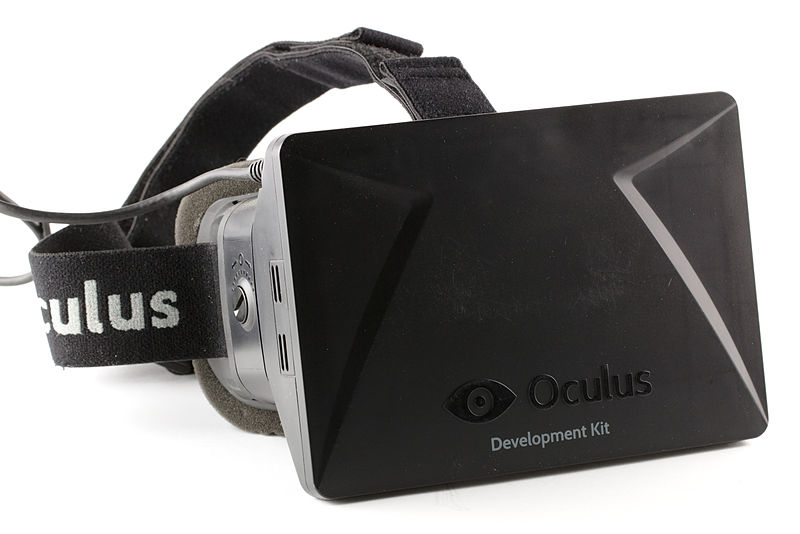 So, with the looming launch of Project Sansar's alpha version, there's been quite a buzz around the technology that is allowing us to start shifting into a more Virtual Reality-friendly era. While Project Sansar will be an incredibly unique experience, it will not be taking the place of Second Life by any means (see this great article outlining why Second Life is not going anywhere in the words of our own Linden Labs CEO Ebbe Altberg). Project Sansar does, however, offer a peek into the next level of VR gaming. Of course, when these discussions are had about the VR tech boom, most people start off with mentioning the frontrunner, Oculus Rift.
The Oculus Rift is the biggest VR headset out there- and the official consumer version hasn't even become available yet! With development kits being available since July of 2014, it holds a lot of promise with regards to an amazing VR experience. But, folk who are even in tune enough to know about the Oculus Rift often don't realize that the world of VR headsets is far more in depth. Today, we'll be highlighting a few of these pieces of VR heaven.
1. Samsung Gear VR: I was quite fascinated when I learned about this device. It basically takes your smart phone and turns it into a VR device. Ideally, you'd want something newer and high-end (if you can swing it), but you insert the phone into the headset and presto! You have the ability to create your own with the strong capabilities of the hardware in your smart phone. The advantage here is that you don't need to draw on the graphics of your PC, although the field of view is a bit more limited than the Rift. All in all, this is a solid piece of equipment with a "final" version coming out this upcoming week on November 20th, 2015. While it's currently only supporting the Samsung Note 4, S6, and S6 Edge, there are plans to incorporate other phone models in the relatively near future.
2. HTC Vive: This headset is all about the PC gamers with the Steam community very much in mind. With laser-based positional tracking that is very similar to the Rift, it also comes with "ski pole" style controllers that help track your hand movements. The units will also include two tracking camera, and dynamic controls that can even detect squeezing. With a higher FOV than the Samsung Gear VR, the HTC Vive is expected to provide an incredibly immersive experience. The HTC Vive has a limited release due during the holiday season in 2015, with the full launch in the first quarter of 2016.
3. Sony Playstation VR: Playstation fans should absolutely be excited about this one, especially since (the formally known as) Project Morpheus is heavily favored to be one of the leading VR headsets due to hit the market. The refresh rate on the units will leave you with one of the most fluid experience on the market- once it's released. Currently scheduled for the first half of 2016 without a more specific date, the Playstation VR is expected to change the way we look at console gaming. There's already an extensive list of VR compatible Playstation games, including:
• Adrift (Three One Zero)
• The Assembly (nDreams)
• Cult County (Renegade Kid)
• The Deep (SCE London Studio)
• Eve Valkyrie (CCP Games)
• Final Fantasy XIV (Square Enix)
• Five Nights at Freddy's 2 (Scottgames)
• Gran Turismo Sport (Polyphony Digital)
• Keep Talking and Nobody Explodes (Steel Crate)
• London Heist (SCE London Studios)
• Magic Controller (SCE)
• Project CARS (Slightly Mad Studios)
• Q.U.B.E² (Toxic Games)
• Robinson: The Journey (Crytek)
• Shadow of the Beast (Heavy Spectrum)
• Street Luge (SCE London Studios)
• Surgeon Simulator (Bossa Studios)
• Summer Lesson (Katsuhiro Harada)
• Tekken 7 (Bandai Namco)
• Thief (Eidos Montréal)
• The Toybox (SCE)
• War Thunder (Gaijin Entertainment)
Also, the frame rate on the Sony Playstation VR beats both the HTC and the Oculus Rift- making it a serious piece of VR indeed. Unfortunately it will be console-specific, but is rumored that the limitation will cause it to be a very affordable accessory.
There are several more VR headsets either available or due to be available in 2016. While some might not be PC based, one truth is this: this is the start of a VR revolution that will certainly result in an explosion on the market. We all know that technology improves over time, so if this is our starting point- imagine where we'll be a few years from now. Welcome to the next level of gaming, folks.
Bria Oceanside
ZoHa Blogger/Social Media