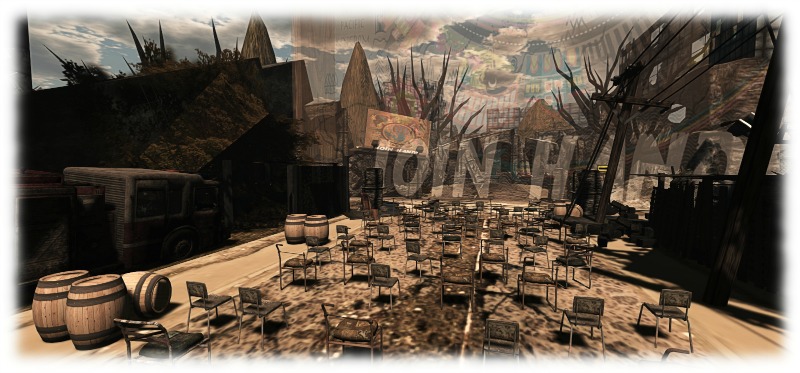 One thing that I love about Second Life is the way its residents come together to help when there is a need. There are many annual events for causes such as Relay for Life, Feed A Smile, and many other charitable organizations. SL residents continue to give generously to help those less fortunate than themselves, often raising hundreds or thousands of RL dollars for various causes.
The devastating earthquakes in Nepal over the last couple of weeks have left that country in shambles. Valsnia and Ruby Ornamental, two Second Life residents and bloggers, have recently formed Join Hands, a virtual group they would like to see "make a difference to the real world we live in. Not dedicated to a single mission but the spirit of Humanity." As the inaugural activity for Join Hands, they are organizing a four-day fund-raiser in support of the people of Nepal following the devastating earthquakes.
Fashion for Food SL is an event that has been organized in order to raise money to donate to the UN's World Food Program (WFP), which focuses efforts on bringing assistance and relief to the outlying regions of Nepal. This will allow Nepal's government to concentrate in coordinating their efforts along the Kathmandu Valley. The WFP estimates that US $116.5 million is required to provide food for 1.4 million people for a period of three months – that's US $27 per person per month.
Fashion for Food opens at 2:00 p.m. SLT on Wednesday, May 13th. The opening event is a special fashion show by SCALA™. It will be followed by an after-show party hosted by DJ Seashell Dench from SCALA™. Clothing and jewellery from participating designers can be purchased from the vendor boards throughout the region, with all proceeds of sales, as well as all donations received going directly to WFP in support of their work in Nepal.
Designers from across Second Life are donating to and participating in the event: 69Park Ave GQ, Amarelo manga, Ana Markova, Astralia Alice Tartaglia, Aura Yeu, Ayiki, – AZUL -, Baboom Couture, CIRCA Living, CORPUS Motion, Dulce Secrets, ~ghee~, ~~ Glitter Girls ~~ and In-Pose, Glitterati by Sapphire, Hawker's House, ImmateriA, J'adore poses, JCNY Collection, .:JUMO:., K E L I N I Haute Couture, Lazuri. Look @ Me Design, LUXE, Lyrical Bizarre Templates, Mâchoire, M&M Clothing, Me Sew Sexy, Moondance Boutique, NYA'S Shop, No 7, Petit Chat, Prey, Prism Designs SL, PROMAGIC, RAPTURE, Athena Couture, SF designs, Silken Moon, ::SG SLackgirl ::, Snowpaws, TASHI, Totally Random, Vestige Poses, Xen's Hats and Zanze. All proceeds of the sales through the vendor boards will be going to support the WFP to deliver food to the people of Nepal.
Indian Paradise is the region hosting the event, and it has been designed to re-create an environment which has been shattered by an earthquake, offering a glimpse of the devastation in Nepal. The fashion show and events area is located towards the center of the region, while paths winding around the region take you past the vendor boards, which will be available throughout the four day event.
The planned schedule of events for Fashion for Food is as follows:
• Wednesday, May 13th, 2015, 2:00 p.m. SLT: Fashion Showcase by SCALA™Models
• Wednesday, May 13th through Saturday May 16th 2015: Outfits and jewellery from the participating designers are on sale throughout the region, with all proceeds going to the WFP
• Thursday, May 14th, 2015, 12:00 noon SLT: DJ Bonie Facio
• Saturday, May 16th, 2015, 2:00 p.m. SLT: closing party with SCALA™ DJ – Seashell Dench
Fashion for Food is being largely organized by the Indian community in Second Life in support of their neighboring Nepal, with the event region being sponsored by Indian Paradise. Note that if you would prefer to donate to the WFP's work directly, you can do so via their Nepal relief work page. Click on the following link to go to their page: Nepal Relief Work Page
You can find the landmark to Fashion For Life by clicking here (won't be open until 2:00 p.m. SLT on May 13th): Fashion For Life SLURL
Research for this topic came from the blog Living In a Modemworld
Please come out and support this worthy cause. If you cannot attend events inworld, please consider donating either to WFP directly, or with Lindens in SL through Join Hands.
I remain respectfully yours,
~ Suzanne Piers, ZI Blogger/Social Media