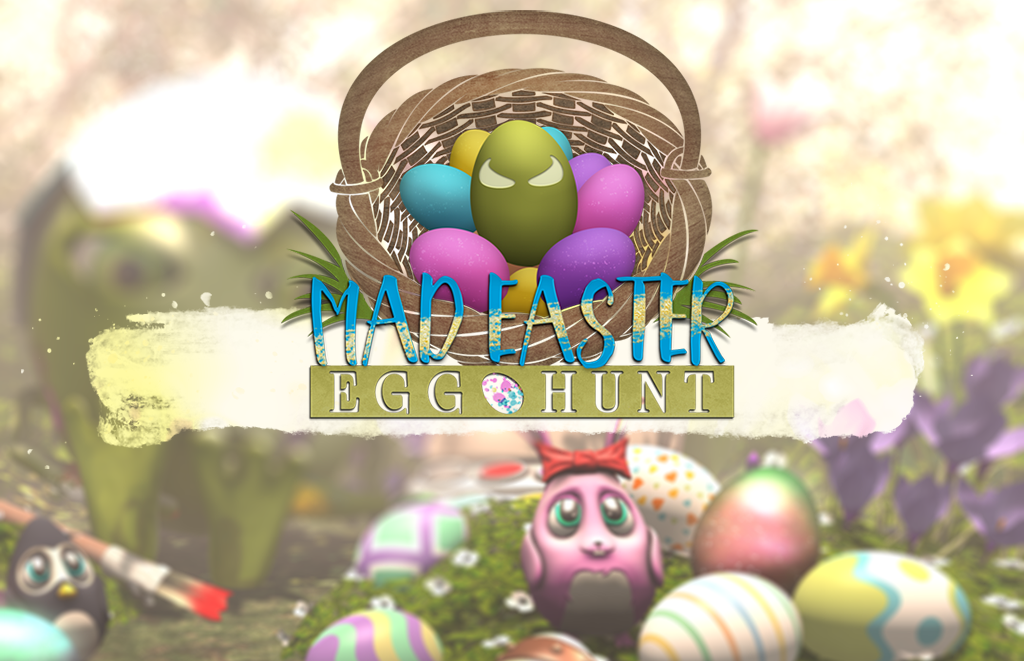 The MadPea Easter Egg Hunt is a hunt like Second Life has never before experienced. Just a week into the hunt, residents have scored over 5 MILLION points by sniffing out eggs. Don't worry – you still have until April 18th to participate by putting an egg on your land or hunting!
How does it work?
Hunters start at Madpea Easter Egg Headquarters and purchase an egg hunting HUD for 100L. The HUD scans the sim you are on and tells you if an egg is there, then guides you to its location. When you click on the egg you will receive either 10 points, 25 points, or 50 points. Eggs that last 1 day are worth 10 points. Eggs that last 2 days are worth 25 points. Eggs that last 3 days are worth 50 points.
That's right! Once an egg is rezzed, its only out for a short period of time. Land owners are constantly putting out new eggs and eggs are disappearing, which makes this a two week event that you won't get bored of! To find a new location that has an egg, you can either click on the pink egg on your HUD to be given a random location, or you can pick from the list on the official Easter Egg Hunt web page.
There are over 1600 hunters currently scouring the grid for eggs, so if you own or rent land – get in on the traffic! You can purchase eggs to place out at MadPea Headquarters. Once set up, the hunters will appear! You can continue to put out as many eggs as you want through the duration of the event on April 18th.
You may even see a few of Zoha's rentals on the list. Can you find an egg at Llama Lyfe (location 1) (location 2) or TerraVillage?
Happy Hunting!
___________
Delilah Greyson
(amoralie triellis)