It's that time again to get your Second Life dancing shoes on and head on over to Muddy's Cafe for the 13th Annual Make a wish concert. Check out this one off line up.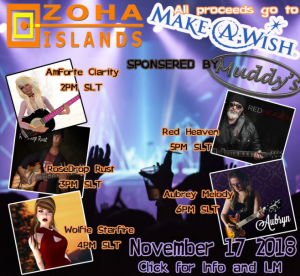 This is Zoha Islands 11th year in business and with that we would like to donate this celebration to the Make A Wish Foundation with the best of the best. For the past 11 years Zoha Islands has supported Make A Wish with some of the BEST LIVE MUSIC you will ever hear.
 Taking the stage is the finest lineup after weeks of searching. November 17th 2018 you can see this one off concert!

Starting the event at 2pm SLT  AMFORTE Clarity, A storyteller, AMForte has captivated audiences with her tales of life and travels, experiences of being a Canadian living in the US and her daily challenges. She's a singer/songwriter with an amazing voice and warmth of character that will make you think of her as more of a friend! With influences that include U2, Nirvana, RadioHead, Alanis Morissette, Coldplay, Placebo, The Cranberries, and Elliott Smith, she plays mostly her own originals, and her cover tunes are songs she has taken and made her own. https://www.amfortemusic.com/
At 3pm SLT The first musician to ever do a make a wish concert. RoseDrop Rust, aka Dan Linn, aka Rusty, grew up in Portland Oregon where his mother taught him to play the ukulele, and his father installed frets on a Hawaiian steel guitar, which become his first guitar. His father sold records and managed a band, while Rusty took classical piano lessons for eight years. Rusty began his career playing open mikes with his brother and later played by himself at coffee houses singing protest songs. Rosedrop's style is sensitive ballads, classic rock and roll, unusual covers, unique songs from personal friends and heartfelt originals. http://rosedropmedia.com/
At 4pm SLT WolfStarFire: With her love of music firmly in tow, Wolfie has released her first album which is a heartfelt blend of contemporary pop, country, and blues. Each song on her album is written by herself, making sure that her music and lyrics are moving, inspirational, and thoughtful. This ensures that more than a few of her songs will get stuck in your head while you listen to each of her tracks.
Wolfie believes that music should tell a story or a lesson in life, which leads her to write songs that have real meaning and lyrics that others can relate to them. This makes sure that each song expresses how she feels while still encouraging each listener to discover what each song can mean to themselves. https://thekeyslivemusic.wordpress.com/wolfie-starfire/
At 5pm SLT Red Heaven, an Ottawa-based four-piece music powerhouse of original rock, blues, and world music. Formed in 2011, they've released four albums ("Amplification," "Moth," "Echolocation," and "200 Years") and two EPS ("The Undivided Heart," and "The Little Temple"). Red Heaven's Joel Tamas (guitar and voice), Mike McNeil (drums), Tom McMahon (bass), and Rachelle Behrens (voice) bring unique, diverse, and wild songs to the stage in a fun show you're sure to remember. http://redheaven.ca/
And at 6pm SLT closing the show Aubryn Melody, Aubryn started singing at a very early age, taking piano lessons and even writing song lyrics. She always felt in her heart that she was born to do one very important thing; music. Playing the Acoustic Guitar, Aubryn has now returned back to SL after a long break, and she is ready to share her passion of music with all of us! https://www.aubrynmusic.com/
After over a decade in business Zoha Islands continues to bring the very best in second life real estate needs, and brings out the very best of residents that continue to make us the Top Estate company in second life. With continued support of the Make A Wish Foundation Zoha Islands has had great success in the efforts of raising awareness for such a great cause. Read the story's yourself from these inspiring kid's http://wish.org/wishes/wish-stories
Muddys Cafe has been around a long time and is one of the sponsors this year. Donating not only the venue but a newfound support in the effort to help make the residents of Second life through commercial advertising more aware that we can make a difference in a child's life through Make A Wish.
Please Set your land stream to http://muddys.digistream.info:20398/ and listen to the professionalism of Muddy's Cafe if you want to listen to the concert via the web please click here http://muddys.digistream.info:20398/index.html?sid=1
You can take the limo to http://maps.secondlife.com/secondlife/Muddys/128/128/21
Remember to give until it hurt's at the Make A Wish site
We would like to thank in advance the great Musicians that made time for this years concert and to Muddy's Cafe/ Muddy Radio and to ALL of the residents that have made this one of the BEST concerts ever to happen in second life for 13 years.
See you all there November 17th 2018 @ 2pm
Have a great week
The ZI Staff.